The P4-Country has a 200 A battery which allows a range of 40 to 50 km. Its four-wheel drive, driven by a servomotor, are also guidelines. Thus, the P4-Country retains a very good stability regardless of the terrain and a particularly short radius of gyration.
Performance and Style without compromise.
The wheelchair 4 × 4 is made from components resistant to oxidation and rust: galvanized steel, stainless steel, aluminum …
Thus equipped, he fears neither mud nor pebbles!
The powerful motorisation of the 4 × 4 Country Chair This 4 × 4 wheelchair is equipped with:
This 4 × 4 wheelchair is equipped with:
The management of the steering by a servomotor articulating together and at the same time rear wheels and front wheels offers an easier and more comfortable driving on difficult or uneven surfaces. As on a car the realignment of the wheels is automatic.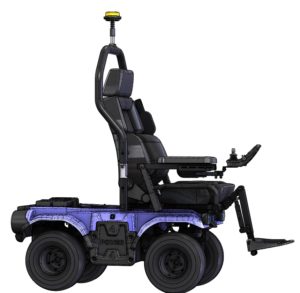 The P4-Country in details
Passive Safety System
Folding roll bar is standard (front or rear) for easy access when loading into a vehicle
1 of 12
Headrest
comfortably fitted the Recaro seat
2 of 12
Recaro Seat
with electric seat tilt to compensate for slope
3 of 12
Metallic finish
standard, other colors possible
4 of 12
Studded tread
Low-pressure tyres 145/70 – 6, inner tube for optimal roadholding
5 of 12
Joystick
Choice of 5 drive modes. Electronic Dx2 enables you to add functions (attendant control, chin controls, TASH contactors, mini-cup contactor, …) iPhone compatibility
6 of 12
Wide, ergonomic
armrests,
are detachable, space- depth- and height-adjustable
7 of 12
Charging plug
easily accessible
8 of 12
Innovative suspension
system absorbs vibrations and bumps for improved driving comfort and protection of the spine protection
9 of 12
Lighting
front and rear (LED)
10 of 12
Footplate
angle adjustable (gas struts)
from 90° to 180°. Independently adjustable right/left, designed for outdoor use
11 of 12
Steering lock
Outstanding agility: rotates
within 1,09 m radius (43 inches) !
12 of 12
Range

40 to 50 km
25 to 30 miles

Maximum speed

10 km/h

Maximum tilt upwards

20%

Maximum tilt downwards

30%

Maximum tilt sideways (crossways)

15%

Maximum obstacle clearance

> 10 cm

Turning radius

90 cm

Power

4 moteurs de 350 watts/24 Volts

2 Batteries Lithium NMC

2x 60 Ah - 24 Volts
| | |
| --- | --- |
| Total weight of the chair with batteries | 190 kg |
| Maximum user weight | 120 kg |
| Luggage rack | < 30kg |
| Seat tilt | 45° |
| Footplate angle° | 90° to 180° |
| Total length (footplate up) | 118 cm |
| Width | 67 cm |
| Chair height (including safety roll bar) | 156 cm |
| Total height for transport : safety roll bar and backrest folded | 96 cm |