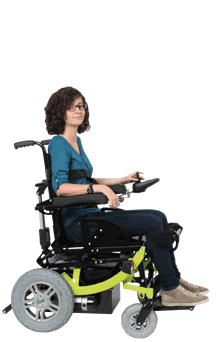 The P-Access is the first electric wheelchair to be equipped with an articulated spreader bar at the front.
The P-Access: a simple and efficient wheelchair!
The specifications of the design office were to produce a simple, robust and user-friendly electric standing wheelchair.
This objective has been surpassed with the development of the front spreader bar, which revolutionises comfort!
Outdoors, the P-Access rolls ideally. On the inside, it is surprisingly easy to handle! State of the art technology for efficiency, for the simplest electric standing wheelchair!
This electric stand-up wheelchair is the first to use a front spreader bar, which not only makes it easier to negotiate obstacles, but also optimises the comfort of driving outside.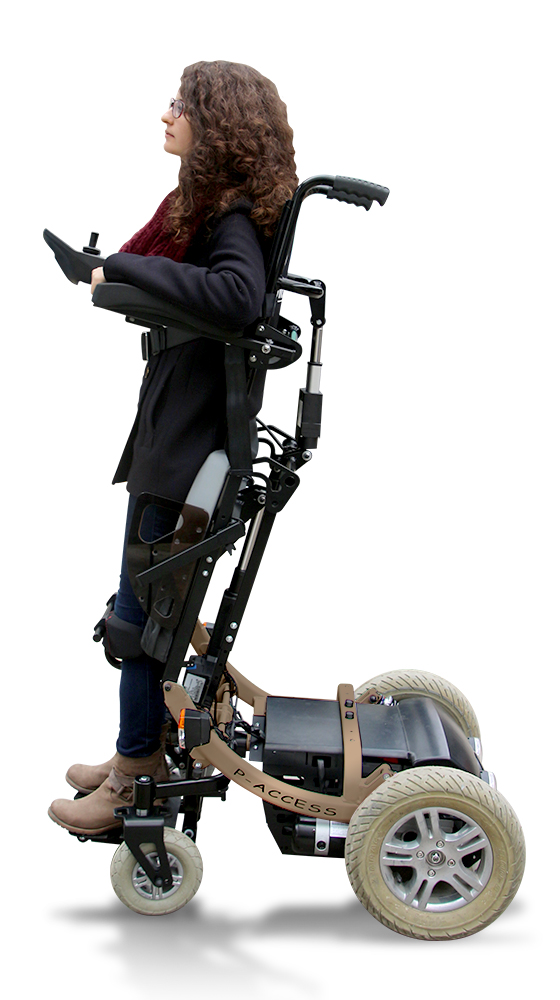 Ergonomic armrests
They conform to the shape of the arms in the direction of the length, and are hollow in the center to prevent slipping.
1 of 1
Total length footplate up
75 cm
Total length footplate down
97 cm
Width
65 cm
Width with narrow armrest
63 cm
Seat height
50 cm at front, sloping 3° to the back
Backrest height
Standard 500 mm.
Optionnal 400 or 600 mm
Turning radius
73,5 cm
Rigid frame with front swing arm
Steel with epoxy coating
Seat width
45 cm
Electric backrest +/- 40°
Fire-retardant washable tension fabric (M3)
| | |
| --- | --- |
| Footplate adjustable to the rear | Height adjustment 60 mm |
| Front wheels | 200×50 mm maintenance free tyres |
| Rear wheels | 360×80 mm inflatable |
| Power (Electric propulsion) | 2 motors 350 watts each |
| Speed | 6 or 10 km/h according version |
| Range with 55 amp batteries | > 20 km |
| Range with 70 amp batteries | > 35 km |
| Charger | 1 charger 8 Amp 24 Volts |
| Weight of wheelchair – without batteries – with batteries | 88 kg – 55 amp : 104 kg – 70 amp : 118 kg |
| Maximum user weight | 120 kg |