P6-Compact MWD: the combination of retro-verticalization, biocompensation and an articulated front beam.
In the same way that we occupy less space in a standing position than in a seated position, retro-verticalization reduces the dimension of the P6-Compact in a standing position compared to a seated position while re-centering the weight of the patient towards the inside the chair, improving its stability. Thus, by retro-verticalizing the P6-Compact allows access to an elevator, a toilet, a kitchen, etc… where other armchairs cannot enter.
By halving the irregularities of the ground, the addition of a spreader bar at the front adds driving comfort outdoors. It also helps to overcome small obstacles such as curbs.
WHEELCHAIR commons POINTS
P6-Compact
Like all PowerStand wheelchairs, the P6-Compact in traction uses an articulated spreader bar which smooths out the irregularities of the ground and provides unequaled rolling comfort.
Its latest generation
Dynamic LinX 
A400
electronics allows many additions, immediately or later
 :
remote control or integrated in the tablet,
attendant control unit,
occipital remote,
chin control,
IR remote…
Its two powerful 350 watt AMT SCHMID German quality motors ensure its traction. Its 70 A
lithium battery
provides a range of more than 40 km as well as a number of charge cycles three greater than traditional gel batteries for a weight reduced by half. Its
high beam and turn signals
allow safe night travel Inside, its reduced width allows it to pass easily through doorways. It has an
electric legrest
as standard, but its huge strong point is undoubtedly
the permanent and simultaneous biometric adjustment of the backrest and the leg
. Thus, no more shearing in the lower back and upper shoulders that move the clothes when changing position.
Easy to handle armchair thanks to a 66 cm radius of gyration. It actually spins in place.
Really ideal indoors: bathroom, elevator, office, kitchen, its central wheels give it unparalleled agility.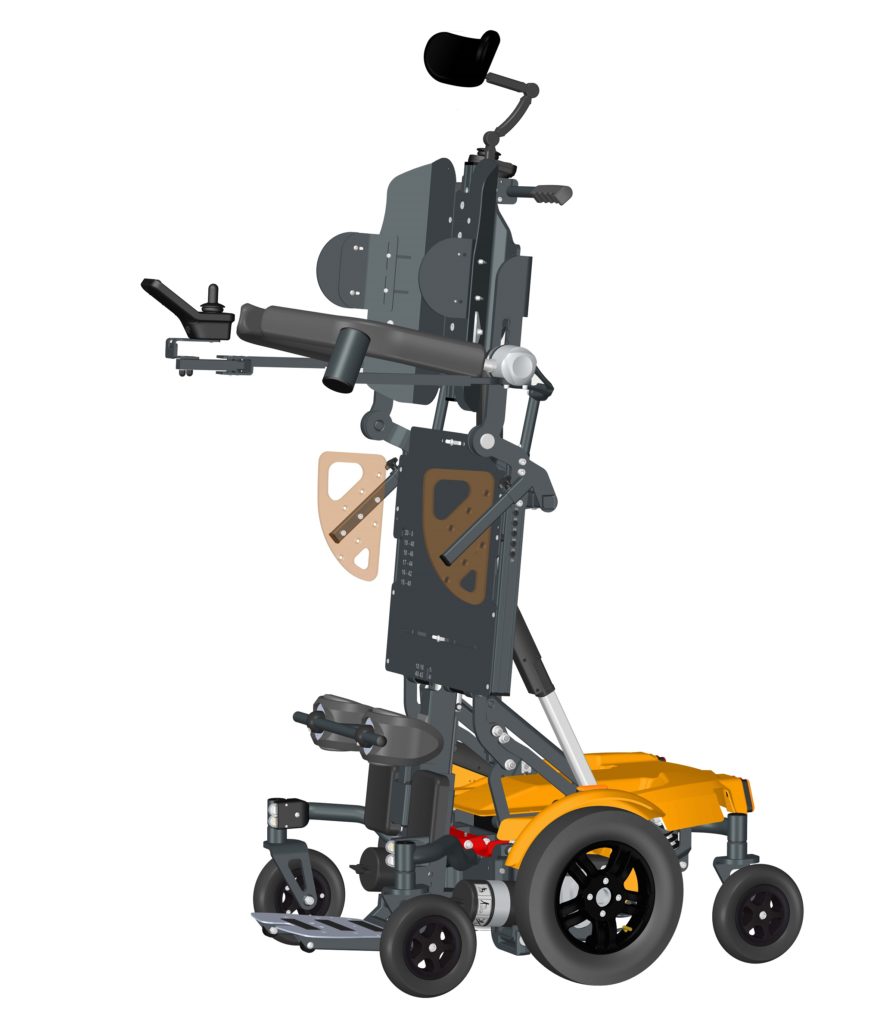 Pectoral armrest
with two fixed positions, vertical – horizontal
they allow easy use, thanks to the change of position with a simple rotational movement.
1 of 11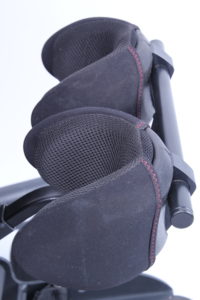 Knee pad
Adjustable in the three axes (height, width and spacing)
They provide unequaled comfort and safety when standing up.
2 of 11
Rocking lever
Essential element of the articulated frame,
the roking lever at the rear reduces uneven ground when driving
thus making driving exceptionally comfortable.
It greatly facilitates the crossing of obstacles such as curbs.
It locks automatically when standing.
3 of 11
Guard clothe
Easily detachable for transfers,
they help maintain the legs and
protect long clothing from driving dirt.
4 of 11
Suspended rear wheel
individually for better stability,
especially when crossing obstacles.
5 of 11
Central & suspendes propulsion
offering the best turning radius
and an incomparable rolling behavior
6 of 11
Remot control
Dynamic Control REM400, tactile and intuitive,
it allows you to control the chair and control all the functions of the seat
such as verticalization or tilting of the backrest,
also accessories such as high beam, horn.
Finally, it allows you to connect to another device via Bluetooth.
7 of 11
Foot-plate
Mono-pallet, liftable to facilitate transfers,
it is fitted with a central safety wheel preventing any risk of tipping forward.
8 of 11
Legrest
bio-compensated offering better comfort
for verticalization.
9 of 11
Battery indicator & USB
This display shows the battery voltage
Allowing direct control of the charge level
(below 22V, the battery must be recharged)
Equipped with USB3 & USB-C socket for charging a smartphone
10 of 11
Electrical backrest
Allows stepless adjustment of the backrest angle from 40 to 85°.
11 of 11
Total length footplate up

95 cm

Total length footplate down

113 cm
Width
64 cm

Width with narrow armrest

63 cm
Seat height
50 cm at front, sloping 3° to the back
Backrest height

Standard 500 mm.




Optionnal 400 or 600 mm

turning radius
66 cm
 
suspended & hinged frame
acier peinture époxy RAL
 
Largeur d'assise

Steel with epoxy coating

Emectric backrest
-5° to 40°
Electrical tilt legrest




with adjustable footplate




90° to 180°




Height adjustment 60 mm



Middle wheel drive
360×80 mm
Rear & front wheels
200×50 mm free maintenance tyres
Power (electric propulsion)
2 motors 350 watts
Vitesse
6 ou 10 km/h according version
Range with 70Ah 24V battery Lithium
> 35 km
Charger
charger 8 Amp 24 Volts

Weight of wheelchair




– without batteries




– with batteries



110 kg
130kg
Maximum user weight
120 kg
During a traditional verticalization, the verticalization device gradually lifts the patient to stand on the pallet rest located at the front of the chair. It follows a lengthening of the chair and a transfer of weight making the overall cumbersome and driving less easy.
The "retro-verticalization" is instead to refocus the patient inside the frame of the chair during verticalization. Thus the pallet rest retracting in the chair during retroverticalisation, the length of the chair decreases in standing position relative to the sitting position.
This is particularly useful in confined spaces such as elevators. This better distribution of the weights gives a better stability allows a ride in standing with confidence.
The "retro-verticalization" is ideal for indoor use.
Les bienfaits de la verticalisation pour la santé