The P-eSTAND is the only electric standing chair equipped with a FRONT articulated lifter.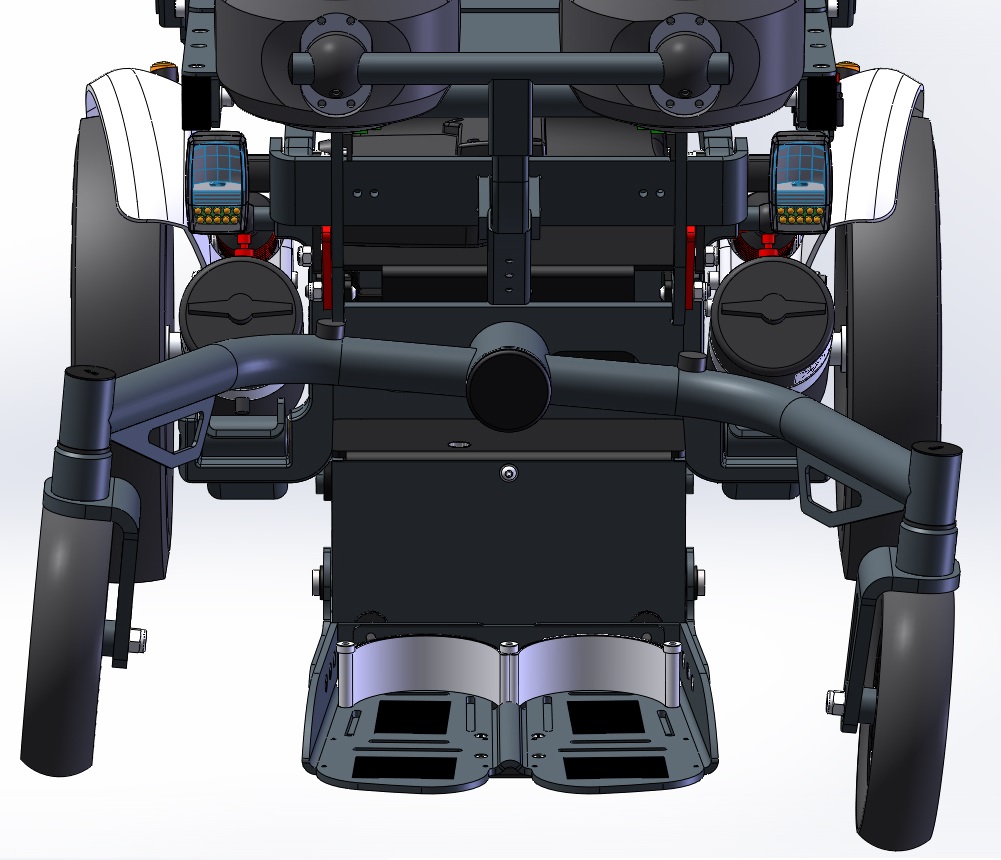 P-eSTAND: A simple and effective chair!
The P-eSTAND is a new electric powered wheelchair designed with great care.
Indeed, the goal of our design team was to create a simple, robust and user-friendly electric standing chair.
This goal has been surpassed with the development of the front spreader which revolutionizes comfort!
Outside, the P-eSTAND rolls ideally. Inside, it shows a surprising maneuverability! State-of-the-art technology for efficiency, for the simplest of electric wheelchairs!
This electric standing wheelchair is the first chair to use a front spreader which not only facilitates the crossing of obstacles, but also optimizes the comfort of driving outdoors.
| | | |
| --- | --- | --- |
| | Total length footplate up | 75 cm |
| | Total length footplate down | 97 cm |
| | Width | 65 cm |
| | Width with narrow armrest | 63 cm |
| | Seat height | 50 cm at front, sloping 3° to the back |
| | Backrest height | Standard 500 mm. Optionnal 400 or 600 mm |
| | Turning radius | 73.5 cm |
| | Rigid frame with front swing arm | Steel with epoxy coating |
| | Seat width | 40 / 46 / 50 cm |
| | Electric backrest +/- 40° | Fire-retardant washable tension fabric (M3) |
 
Footplate adjustable to the rear
Height adjustment 60 mm
Front wheels
200×50 mm maintenance free tyres
Rear wheels
360×80 mm inflatable
Power (Electric propulsion)
2 motors 350 watts each
Speed
6 or 10 km/h according version
Range with 70 amp batteries
> 35 km
Charger
1 charger 8 Amp 24 Volts
Weight of wheelchair
– without batteries
– with batteries
88 kg
110 kg – battery 55 Ah / 118 kg – battery 70Ah
Maximum user weight
120 kg