The P-Compact FWD uses the "retroverticalization" patent.
Designed down to the smallest detail, it takes up less space when standing than when sitting (identical to the natural position) while maintaining excellent stability. For example, retroverticalization allows the use of a lift where other chairs cannot enter.
The ergonomic comfort of "biocompensation
By combining "biocompensation" and "retroverticalization", the "P-Compact" belongs to the most innovative generation of standing chairs.
The "biocompensation" of the backrest and the leg rest means that their elongation is progressive and proportional to the movements of the body when changing position, in particular when moving from sitting to standing and vice versa. This ensures that the backrest glides smoothly and comfortably over the backrest. No pressure on the skin and no stretched clothing.
Wheelchair common points
P-Compact FWD is traction.
Like all PowerStand wheelchairs, the P-Compact FWD in traction uses an articulated spreader bar which smooths out the irregularities of the ground and provides unequaled rolling comfort.
Its latest generation
Dynamic LinX 
A400
electronics allows many additions, immediately or later
 :
remote control or integrated in the tablet,
attendant control unit,
occipital remote,
chin control,
IR remote…
Its two powerful 350 watt AMT SCHMID German quality motors ensure its traction. Its 70 A
lithium battery
provides a range of more than 40 km as well as a number of charge cycles three greater than traditional gel batteries for a weight reduced by half. Its
high beam and turn signals
allow safe night travel Inside, its reduced width allows it to pass easily through doorways. It has an
electric legrest
as standard, but its huge strong point is undoubtedly
the permanent and simultaneous biometric adjustment of the backrest and the leg
. Thus, no more shearing in the lower back and upper shoulders that move the clothes when changing position.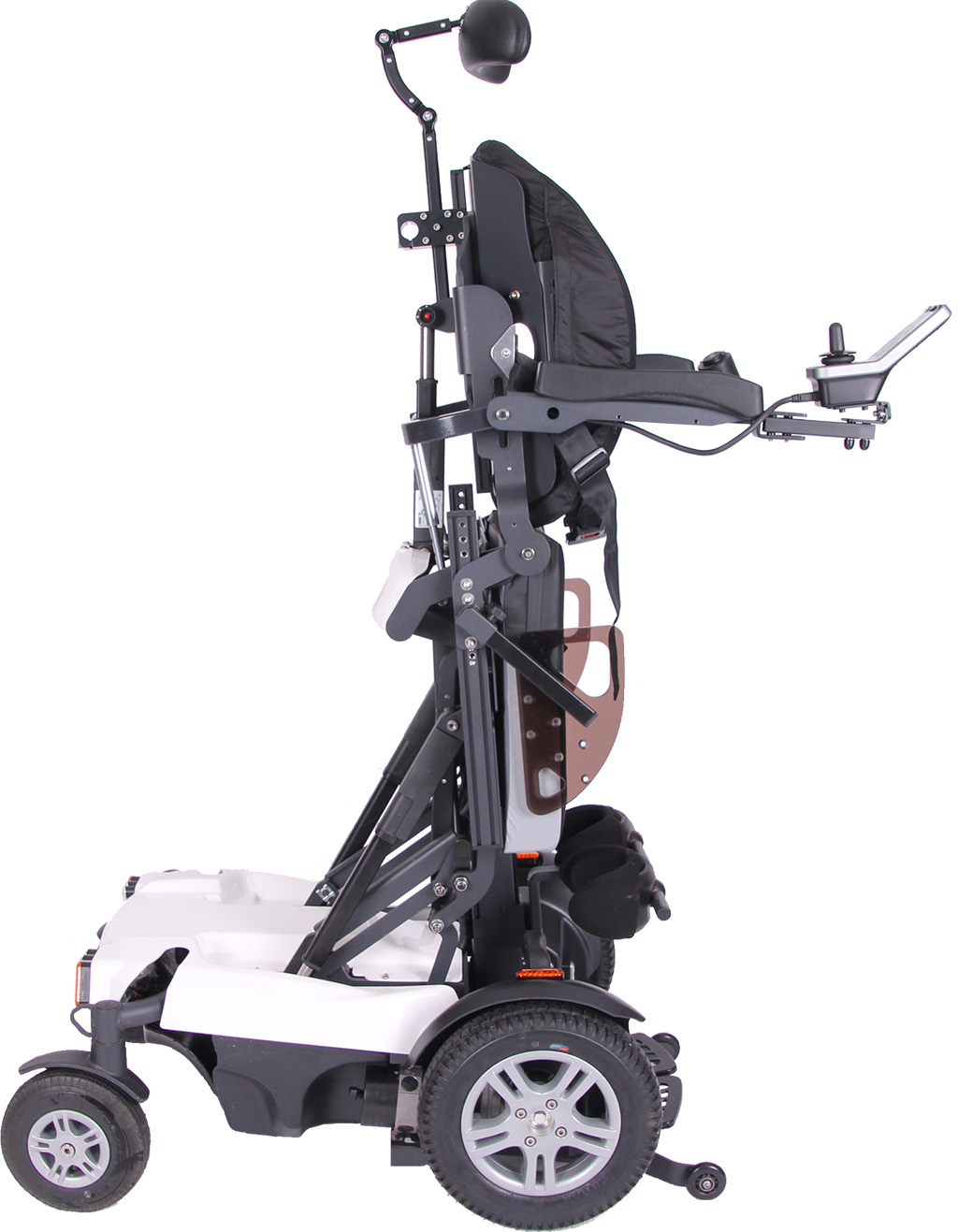 PECTORAL ARMREST
at a constant angle, whatever the inclination of the backrest, the armrest (with or without tablet) remains stable and horizontal. 4 integrated functions: comfort armrest, pectoral support, support for the bust in extension, safety in standing.
1 of 13
ANTI-TIP WHEEL:
retracted in the seated position in order to reduce the length of the chair, they come automatically to the ground when standing up in order to ensure safety and front stability. 
2 of 13
HEAD-SUPPORT:
with ergonomic pad adjustment on 3 axes in height, depth and spacing.
3 of 13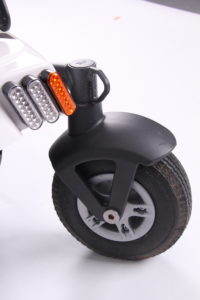 TIE-DOWN :
secures the wheelchair during transport in a converted vehicle. Note: no passenger should be seated in the wheelchair when travelling.
4 of 13
BACKREST:
choice of fabric or modular backrest with Physipro cover and side support pads.
5 of 13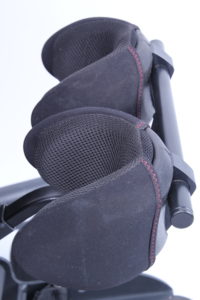 KNEE PAD:
adjustable along 3 axes (height – spacing – depth) to adapt to everyone's knee.
with integrated anti-decubitus pad for better comfort.
6 of 13
REMOTE CONTROL :
the functions of movement, verticalization, inclination of the backrest, elevation of the leg, the speed variator, the indicators, the main beams and the horn are grouped together in the joystick manipulator.
7 of 13
LEGREST :
bio-compensated offering better comfort
for verticalization.
With calf support pad which contributes to seating comfort.
8 of 13
FOOTREST :
Choice of mono or bi-pallets individually adjustable.
Aluminum so it won't rust.
Updated to allow water and debris to pass.
Can be lifted to facilitate transfers and adjustable in inclination for foot comfort.
Relevable pour faciliter les transferts et ajustable en inclinaison pour le confort du pied.
9 of 13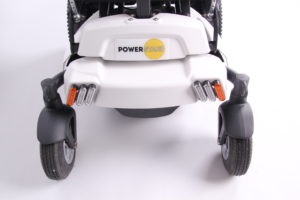 REAR ROCKING LEVER :
Essential element of the articulated frame,
the roking lever at the rear reduces uneven ground when driving
thus making driving exceptionally comfortable.
It greatly facilitates the crossing of obstacles such as curbs.
It locks automatically when standing.
10 of 13
SWING AWAY : 
retracts laterally in order to approach the tables as closely as possible.
Available right or left.
11 of 13
CLOTHE GUARD :
detachable to facilitate transfers, it avoids soiling of clothing when rolling and helps to position the legs correctly.
12 of 13
RETRO-STANDING:
in order to get as close as possible to the natural standing position, the flared shape of the frame associated with the kinematics of the P-Compact wheelchair allows "Retro-sanding".
That is to say, a smaller footprint in a standing position than in a seated position with maximum stability.
13 of 13
| | | |
| --- | --- | --- |
| | Total length footplate up | 95 cm |
| | Total length footplate down | 113 cm |
| | Width | 64 cm |
| | Width with narrow armrest | 63 cm |
| | Seat height | 50 cm at front, sloping 3° to the back |
| | Backrest height | Standard 500 mm. Optionnal 400 or 600 mm |
| | Turning radius | 73 cm |
| | Rigid frame with front swing arm | Steel with epoxy coating |
| | Seat width | 40 to 50 cm modulo 2 cm |
| | Electric backrest +/- 40° | Fire-retardant washable tension fabric (M3) |
| | | |
| --- | --- | --- |
| | Electrical tilt legrest with adjustable footplate | 90° to 180° Height adjustment 60 mm |
| | Midle drive wheels | 360×80 mm inflatable |
| | Front & Rear wheels | 200×50 mm maintenance free tyres |
| | Power (Electric propulsion) | 2 motors 350 watts each |
| | Speed | 6 or 10 km/h according version |
| | Range with 70 amp batteries | > 35 km |
| | Charger | 1 charger 8 Amp 24 Volts |
| | Weight of wheelchair – without batteries – with batteries | 110 kg 130kg |
| | Maximum user weight | 120 kg |
During a traditional verticalization, the verticalization device gradually lifts the patient to stand on the pallet rest located at the front of the chair. It follows a lengthening of the chair and a transfer of weight making the overall cumbersome and driving less easy.
The "retro-verticalization" is instead to refocus the patient inside the frame of the chair during verticalization. Thus the pallet rest retracting in the chair during retroverticalisation, the length of the chair decreases in standing position relative to the sitting position.
This is particularly useful in confined spaces such as elevators. This better distribution of the weights gives a better stability allows a ride in standing with confidence.
The "retro-verticalization" is ideal for indoor use.